Mufflers for DEUZ, VM and other brands
Costruzione Ricambi Macchine Industriali is specialized in the production of industrial silencers since 1968. We produce silencers for exhaust systems of diesel engines, marine engines, earth-moving machines and many other applications.
Our expertise and our flexibility allow us to realize a wide range of products, for this reason we can produce standardized or custom-made industrial silencers. In the case of custom-made silencers, we design the model after having checked the characteristics of the engine and the environment where the silencer will be placed. We also select the most suitable material, suggesting our customers the best way to soundproof the system. We can realize them with axial or side exit according to the requirements and the effective soundproofing to meet.
Our standardized production concerns different kind of silencers: Wolf (that can be used for different kind of engines) and other silencers for VM and Deutz engines.
SILENCERS FOR DEUTZ AND VM ENGINES
Costruzione Ricambi Macchine Industriali realizes silencers for Deutz, VM and AIFO engines. We realize some of FL 413F, FL 912 series.
SILENCERS FOR AIFO ENGINES
Costruzione Ricambi Macchine Industriali is specialized in silencers and potholes production.
Our company can produce silencers, engines' drain pipes and joints, putting its expertise and professionality in the service of automotive and shipbuilding field. The best manufacturing houses, infact, cooperate with us to provide the end user with excellent products.
Costruzione Ricambi Macchine Industriali is able to realize potholes, silencers, drain pipes and joints for Aifo engines, Hycoma and Deutz spare parts, in Milan.
SOUND-PROOFED SILENCERS AND POTHOLES
We produce sound-proofed silencers and potholes in Milan for the following brands:
- BITELLI: Silencers and joints
- VM Motori: Series 1052 1053-1054-1056-195/298 with embedded collector 102/103/104 on 295/395SV Series 1.330 etc. (see charts).
- IVECO AIFO: Type CO03 - I 8061 - I (we build other kind of potholes on request)
- DEUTZ: Series FL912 – 413 L – 413 F with embedded collector, etc. (see charts)
- VOLVO: Type TDI 120 GG – TID 120 FG
- HICOMA
- DONALDSON
- ISOTTA FRASCHINI
Contacts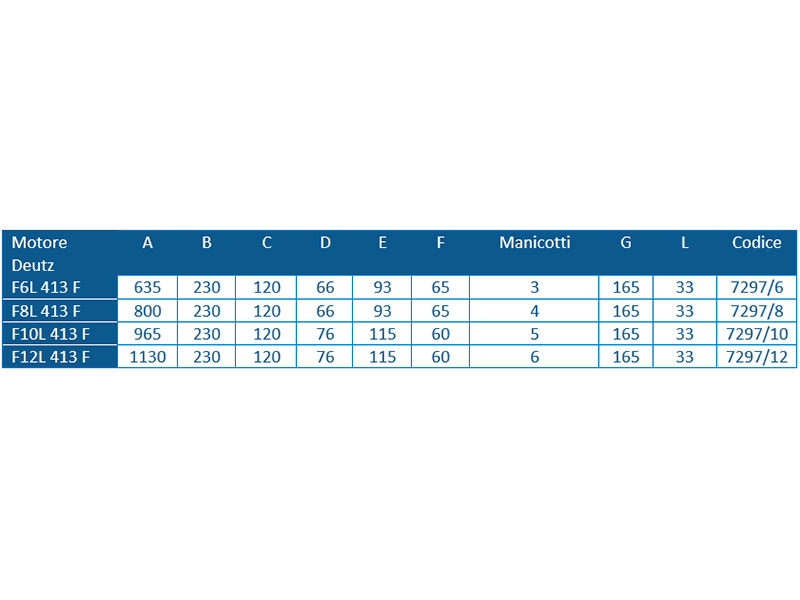 Guaranteed
delivery and professionalism
Respect for the customer is fundamental for our company: for this reason we guarantee professionalism in the performance of our work and collaboration to create a customized product based on customer needs. We have no billing limit.
Contact